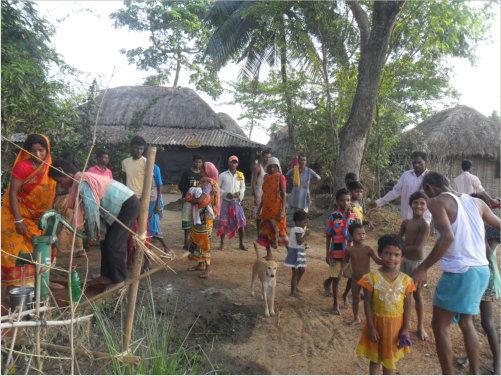 Villagers of Santhal Para
But there is also resistance. The Adivasi are fighting to preserve their cultures and their traditional ways of life which are threatened with extinction by the demands of India's expansively growing economy. They have also received prominent support from the author Arundathi Roy who has become known worldwide for her novel "The God of Small Things" and who has taken part in many protest events and is campaigning for the rights of the Adivasi.
Knowledge in reading, writing, and arithmetic helps the Adivasi to understand, exercise, and fight for their rights. In this sense, 'we care' is committed to the children of the Adivasi villages Santhal Para and Keotkhalisa in West Bengal.
The Adivasi of those villages belong to the Santhal tribe, the largest Adivasi tribe. It includes several million people who live mainly in states in northeastern India and partly in Bangladesh and Nepal.
The Santhal live mostly in village communities which have a clearly articulated social structure. There is no hierarchy based on power or status, and compared to women in Hindu society, Santhal women enjoy far more rights. The village community is ruled by a chief who is elected for life and also the contact person for people seeking advice and the mediator in case of disagreements.
Santhal women with their children
The Santhal speak Santali, one of the oldest languages in India. At the numerous traditional and religious events – the Santhal believe in good and evil spirits in nature that permeate their daily lives – their rich cultural life is evident. Music and dance play a major role. The Santhal are also skilled and talented in handicrafts and art.
Traditionally, the Santhal are field workers, however, very few possess their own land but work the fields of others as day laborers. But Santhal are also exploited as cheap labourers on construction sites, in factories, and in brickworks. The Santhal from the village of Santhal Para work in the rice fields of Indian farmers.
In the article "Landraub auf Kosten der Ärmsten" (translated: "Land robbery at the expense of the poorest") – published in the magazine "Doppelpunkt" (No. 19/2014) – Kamal A. Garg impressively describes the arbitrary expropriation of millions of people – among them also the Adivasi – by the Indian state. (PDF)
No donations are used for the 'we care' homepage.