Ala'a lives in a small mountain village in Syria. As a young boy he fell ill with polio; since then, he has not been able to walk anymore.
About five years ago, he received a battery-powered wheelchair through his brother who works for the Department of Health. This was a great moment of happiness for Ala'a as for the first time he was able to move around independently. Before that, he owned an old, rickety wheelchair but was not strong enough to independently move this wheelchair through the unpaved and partly steep alleys of his home village.
Ala'a works as a shoemaker. He lives together with his single sister in a small house. One of his brothers is a farmer. He supports the two with food.
After five years of use, the two batteries of the wheelchair were exhausted. The civil war, which has been going on since 2011, and the desolate economic situation made it impossible for the family to buy new batteries. There is only enough for the bare necessities.
'We care' purchased two new batteries for Ala'a's wheelchair. They were installed by friends.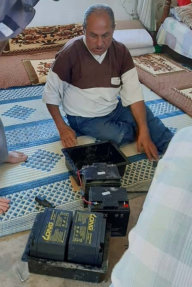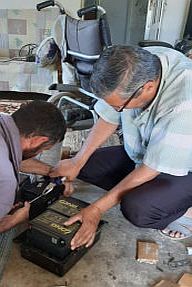 The beaming smile shows how happy Ala'a is to have regained a piece of quality of life.
September 2022
Thanks to the batteries for his wheelchair, which 'we care' purchased and paid for about two years ago, Ala'a, who had been confined to a wheelchair since polio in infancy, regained a great deal of quality of life. Ala'a enjoyed being able to leave the house again and get around without an assistant. On the steep, uneven roads in his home village, the tires of his wheelchair wore out quickly and Ala'a again asked 'we care' for help. 'We care' was able to help Ala'a once again and brought the tires to Ala'a in his home village.
Ala'a is happy and grateful to be able to get around outside on his own again and to be able to return the shoes, whose repair provides him with a small income, to his customers. This also enables him to make important human contacts.
No donations are used for the 'we care' homepage.