Pooja, born 2002, is an extremely lovable young woman who has a smile for everyone. She has two younger sisters, her mother is a housewife, her father is a day labourer in the rice fields of a small village in the district of Mednipur in West Bengal/India. He earns about INR 2000 to 3000 per month = about CHF 25 to 40. The father has to feed the family of five, which is barely enough to survive even in the countryside. If there is no work, he does not receive a salary.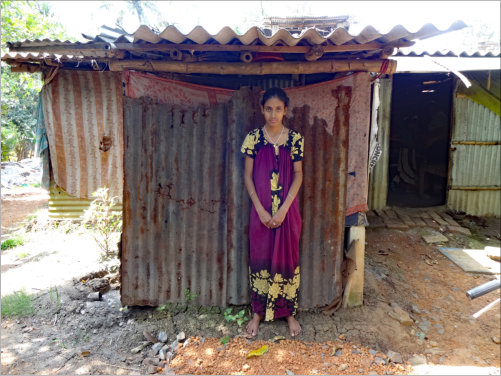 Pooja was born with a severe heart defect that should have been operated quickly but the family lacked the financial means for an operation. Over the years, Pooja's physical capacity increasingly declined. Usually, a young woman of Pooja's age has to do a variety of household chores such as fetching water from the pumps and carrying it home, washing clothes, etc. Pooja's mother has relieved her of all these tasks in order to spare her as much as possible.
In the hope of being able to help Pooja, her father contacted 'we care' through a cousin. 'We care' then took over the costs for the thorough medical examinations of the then 16-year-old Pooja, but unfortunately these examinations revealed that Pooja could no longer be operated. Over the years, the severe heart defect has led to pathological changes in the heart itself but also in the pulmonary vessels, and these changes cannot be reversed. If Pooja were operated in this situation, her heart would subsequently fail rapidly and Pooja would die.
In order to make her everyday life easier and to maintain a satisfactory quality of life for as long as possible, 'we care' covers the costs of Pooja's medication and regular medical check-ups. In addition, the family receives a financial contribution from 'we care' so that Pooja, but also her two younger sisters, can eat healthier – for Pooja, this could also mean an extension of her life as her life expectancy is clearly limited.
However, Pooja did not want to give up going to school. After completing her final exams (grade 12), she opened a small shop in the village and thus contributes to her family's income. She lovingly takes care of her two younger sisters whom she wants to help to get a good education.
No donations are used for the 'we care' homepage.